Apartments in Progress - October 2016

SOUTH BEACH With housing, especially rentals, in short supply, Oksenholt Companies is looking to relieve some of the demand in the coastal community. As a result, the company plans to build 28 boutique apartments for rent in the Wilder development in South Beach.
"Boutique apartments are smaller than traditional complexes," said Oksenholt Companies CEO Jon Oksenholt. "They are broken down into four-plexes with only one common wall. They feel more like townhouses than apartments. The finishes are similar to those in higher-end homes."
The company broke ground two weeks ago on the apartments, and plans to have the first units ready for renters in April or May of 2017.
Sports Lincoln County - August 2016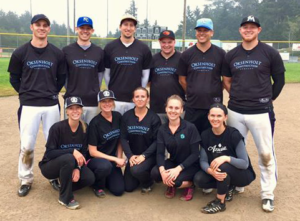 Oksenholt Construction fought its way back through the loser's bracket Saturday to avenge its first loss of the season with two must-win victories over Shuckers Oyster Bar to win the Lincoln City Adult Co-Ed Softball League championship.